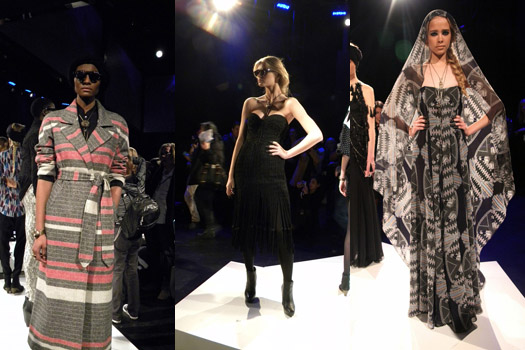 NEW YORK, Feb 11, 2011 / FW/ — Entitled "Spiritual Warrior", designer Mara Hoffman was inspired by the work of her husband, artist Javier Piñón.
As she told FashionWindows in and interview during her show, "My husband and I constantly inspire one another and because we are expecting our first child together, as artists we feel more creatively connected than ever."
Entitled "O Babalon", Javier Pinon's latest body of work consists of collages built around depictions of an earth goddess, her attendants, priestesses and their mystical terrain.
And because Mara Hoffman is also an expectant mother while designing it, there was also a feeling of the earth goddess as Mother Earth as seen in the loose fitting gowns which, though they are not necessarily maternity clothes, they can also accommodate a baby bump.
[MARI DAVIS]
Photos by Mari Davis
New York Fashion Week Fall 2011