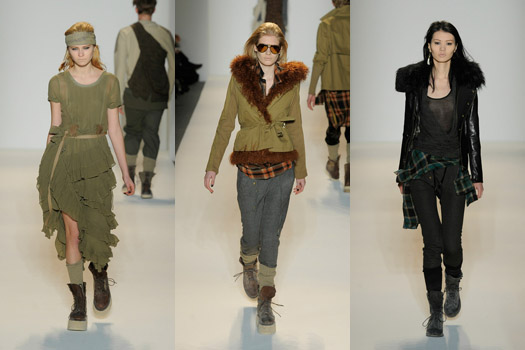 NEW YORK, Feb 11, 2011 / FW/ — A fusion of European and American aesthetics, Nicholas K proposed a very wearable collection that will appeal to the twenty-something crowd. Plasticized leather jackets which were sometimes seen with hoods or fur trim dominated the outerwear offering for both men and women.
Jeggings were the trouser of choice, again for both men and women. Yet though the two sexes had that in common, the collection was far from being androgynous. In fact, there was a line drawn between masculine and feminine. And because of it, the collection became endearing.
Androgyny has been a mainstream trend for some time now especially in urban inspired collections. That Nicholas K was able to discern the two sexes and still stay within the whole concept of urban wear is commendable. After all, masculine girls and feminine boys might look cute, but a girly girl and a manly man are great strutting their stuff.
[MARI DAVIS]
Photos courtesy of Mercedes-Benz Fashion Week
New York Fashion Week Fall 2011