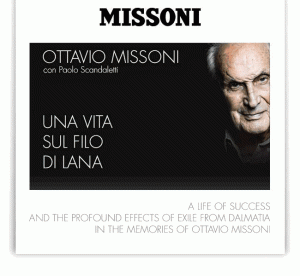 MILAN, Feb 11, 2011 / FW/ — It is Ottavio Missoni's 90th birthday today!
On his birthday, the patriarch of the famed Missoni label shares his memories of his days in fashion, reflecting on a life of success and his exile from Dalmatia and its profound effects. Its release also coincides with the Day of Remembrance for the victims of the Foibe Massacres and the Julian-Dalmatian exile.
Written with Paolo Scandaletti, "Una Vita Sul Filo Di Lana (A Life on the Wool Thread)," the autobiographic book is published by Rizzoli.