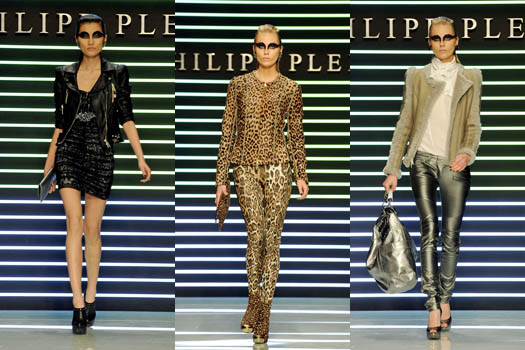 MILAN, Feb 27, 2011 / — Philipp Plein returns to Milan's catwalks. First Naomi Campbell, then Mischa Barton and Pierre Sarkozy, now Jerry Hall and Peaches Geldof! Two magnificent women, two different generations meet at Philipp Plein in Milan, on the 26th of February.
Jerry Hall, supermodel and epitome of fashion, sophisticated jet set style and feminine allure. Ms. Hall perfectly interprets the new Philipp Plein Fall/Winter 2011/2012 collection: Defined, strong and rock and roll.
Ageless, timeless, without boundaries.
Peaches Geldof represents the new pop rock generation, as fashionista and international "it" girl. Both women impersonate an aera of rock and style.
The designer Philipp Plein chooses Jerry Hall to open his show; and Peaches Geldof as DJ star of the evening. The fashion show/event will take place once again in the magnificent deconsecrated church of San Paolo Converso, the Fondazione Metropolitan. A backdrop with spectacular frescoes literally inundated for the occasion with lights, and live music performed by a symphony orchestra specially chosen to open the show.
The golden boy of glamour, loved by stars from around the world such as Marcus Schenkenberg, the Beckhams, and Heidi Klum, will present his new 2011/12 women's autumn/winter collection, amidst bright neon lights and a soundtrack that mixes the most harmonious classical melodies with the sharpest of techno rock sounds.
Exactly echoing his style. Refined and irreverent; romantic and provocative; innocent and transgressive; rebellious luxury and sophisticated rock and roll.
Amongst the highlights of the Philipp Plein collection are numerous bon ton suits with dark Gothic details and accessories. Coats and cloaks in classic French fabrics like damask and jacquard, all of rigorously haute couture manufacture.
Fur in abundance, even on bags and accessories, the real protagonists of the show. Amidst all of this are the incredibly precious snow boots, adorned with metals, fine chains and pendants, and covered in CRYSTALLIZED™ – Swarovski Elements. Combat boots too, punctuated with bright mini-studs, to wear with light flowing dresses or maxi skirts.
[nggallery id=312]