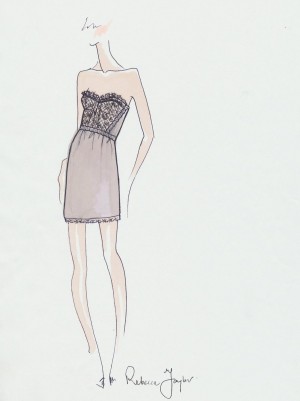 NEW YORK, Feb 2, 2011 / FW/ — Under the iconic red neon sign "Hotel Empire", which has remained untouched since was erected atop the building in 1923, the hotel's ambassadors will be wearing the 'Empire Femme Fatale' dress by Rebecca Taylor during the duration of Fashion Week.
Located on West 63rd street at Broadway and adjacent to Lincoln Center, the Empire Hotel is the perfect rendezvous point for fashionistas. And welcoming them will be the Empire Hotel Fashion Week Ambassadors who will be stationed in the lobby from 6am-11pm.
Equipped with information on all happenings at the hotel, as well as all of the events and shows taking place at Lincoln Center, the Ambassadors are armed with all fashion week necessities including the Lincoln Center layout/floor plan for the shows, maps & kits for any fashion mishaps.
And their dress, which was exclusively designed by Rebecca Taylor, is part of the attraction.
Taylor, who is unveiling her Fall 2011 collection at the Lincoln Center during fashion week exclaims, "I'm excited to collaborate with the Empire Hotel on this unique project!"
"My design for the dress was inspired by the hotel's interior design, modern, chic and sexy all wrapped in one," she added.
The dress is indeed unique. Done hues of black and gold, it has strapless bodice that features a luxurious nude silk with jet black lace overlay. The back of the silhouette is adorned with a cross grain rhinestone detail and exposed zipper which is perfect for any fashionable evening out. And it matches perfectly the hotel's well-appointed setting.
Opened in the mid 1890s, the Empire Hotel underwent an extensive redesign, renovation and expansion by Goodman Charlton, officially re-opening in June of 2008.
And as part of the Fashion Week celebration, the Empire Hotel is also holding a companion online auction powered by leading charity auction site charitybuzz will be open from February 2 through February 24 at www.charitybuzz.com/HotelEmpire.
Winners can bid to receive several amazing auction packages donated by Rebecca Taylor and the Empire Hotel to benefit a cause near to the designers' heart. Net proceeds from the sale of each package will go to the New York Foundling charity.