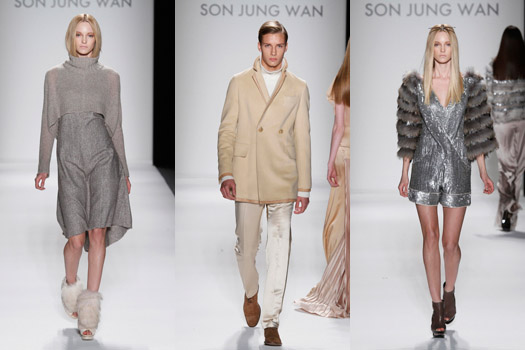 NEW YORK, Feb 24, 2011 / FW/ — With annual sales of over 37 billion won (34 million dollars), Son Jung Wang is one of the largest Korean designer labels.
And though there is Seoul Fashion Week, she decided to pack her collection and unveil it to New York. Perhaps, she wants to expand her market; or maybe, it's because of a line from a song "If you can make it here, you can make it anywhere, New York, New York".
Whatever her reasons were, Son Jung Wan came out triumphant. Her debut collection was well received at the Lincoln Center as New York fashion week came to a close on Feb 17th.
Inspired by "70's glamour ala Sharon Stone in Casino" for Fall 2011, Son Jung Wan showed fur capes and jackets, sleek silk gowns, metallic silk trousers and tweeds all in a neutral palette of creams, nudes, taupes, golds & greys.
The collection can be best described as "uptown rock star", which is definitely on trend for Fall 2011.
[MARI DAVIS]
Photos by Dan Lecca
New York Fashion Week Fall 2011
[nggallery id=306]