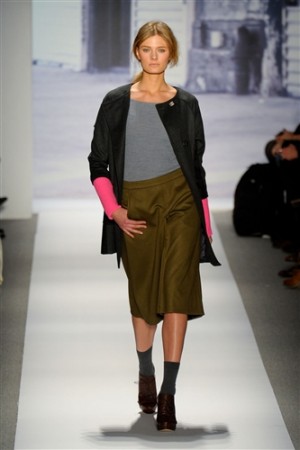 NEW YORK, February 22, 2011/FW/ — Designer Amy Smilovic's collections always seem happy — after all the name Tibi itself evokes a youthful and spirited vibe.
Even amidst her fall hues of oatmeals, ivories, charcoals and creams she playfully slips in unexpected pops of shocking color like electric orange manicured nails and neon pink knit beanies and arm warmers.
For fall the collection appeared to be bisected into two distant time periods – the minimalist refinement of the 1990s and the ornamental elegance of 18th century French Rococo.
American sportswear classics in neutral tinted silks, wools and knits nostalgic of the 90s, like a camel merino sweater dress paired with a grey mid-calf length cardigan, delivered the daywear. While printed and pleated chiffon baroque designs, like a red and cream patterned poof skirt, took on the night.
The collection was packed with practical street staples, yet still held to the Southern feminine veracity it was founded on.
[SARAH BRAY]
Photos by Edward Colelli