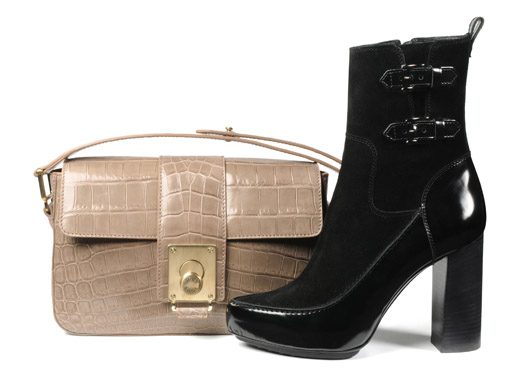 MILAN, Feb 26, 2011 / — The new Tod's Autumn/Winter 2011-12 collection, tailored for a working woman who desires items that are timeless, chic and stylish, takes its inspirational approach from the eternal elegance of the architecture of Louis Kahn, whose simple structures and striking lines invite an interplay of light and shade.
The new collection echoes Kahn's approach by presenting functional forms in a modern and technically innovative way, combining the Tod's trademark merge of classic and contemporary.
The inspirational mix of colour ranging from chromatic greys, naturals and nudes highlighted by strong accents of cherry red and deep teal, emphasises the idea of slick modernity balanced with eternal warmth.
THE ICONICS
Tod's presents its iconic D Bag Luxury, an evolution of the classic D Bag in a super-luxurious hide, featuring a full leather lining. Created with the highest levels of craftsmanship and technical expertise and in the most beautiful leathers, the D Bag is soft, with a hand-cut finish and a contemporary silhouette.
Presented in a special glass structure, this season's D Bag Luxury uses precious leather in an innovative yet traditional manner, to create a genuinely iconic product that is the best that Made in Italy can offer.
In a similar approach echoing inspiration by the late architect Philip Johnson renowned for the way he worked with glass and steel to create the extraordinary and his 1949 design masterpiece the "Glass House", the D Bag shows how innovation, passion and creativity can successfully combine form and function into an aesthetically impeccable and timelessly stylish whole.
THE HIGHLIGHTS
This season's new styles observe a playful mix of classic and modern. The new ankle boot in brushed calfskin has a simple, elegant shape and features two buckles and a thick 10cm heel. The striking black colour of the leather shows off the line of the shoe effectively.
There is new shoulder bag style offered in various sizes and materials such as leather, suede, and precious alligator that features a stylish metallic buckle closure.
SPECIALIST BY SPECIALISTS
As a way of demonstrating the creative process that goes into the development of each Tod's style, Specialist by Specialists takes iconic pieces from the collection and re-imagines them, exasperating their line and construction.
At the root of Tod's lies the know-how and experience of crafting hand-stitched leather and vegetable rubber together and the Specialist by Specialists illustrates how knowledge of the art of leather that goes back three generations can inspire real creative experimentation.
The Specialist by Specialists includes the iconic Winter Gommino with an internal plateau sole entirely covered in leather; the Aspen ankle boot, featuring a lace up closure and a 10cm heel; and two styles of Motor boots, with simple, clean lines, but with a rich and sophisticated construction.