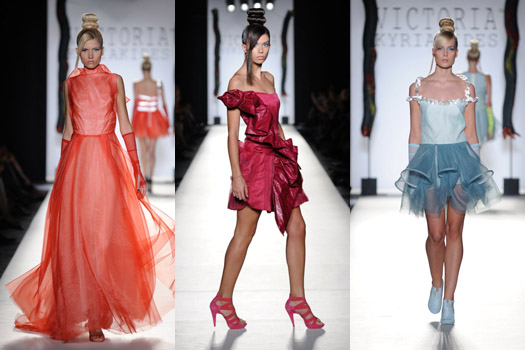 ATHENS, Feb 23, 2011 / — Victoria Kyriakides presented her prêt-a-porter collection for Spring/Summer 2011, during Athens Fashion Week.
Characteristics of the collection — Geometric forms, shapes and colors that we see in a tropical coral reef. Luxurious and unique fabrics, like organtine, paper and duchess satin silk, in multi-dimensional revolving figurations. Intense colors such as lime, aqua, pomegranate red and salmon pink, with fluorescent details.
Styling — Futuristic disposal. Arty make up, resembling colorful fish tails at the eye edges. Dynamic hair styling. Shoes from Dr. Martens, Irregular choice and Victoria Kyriakides collections.
At the finale, the new trends for the forthcoming bridal collection were presented.