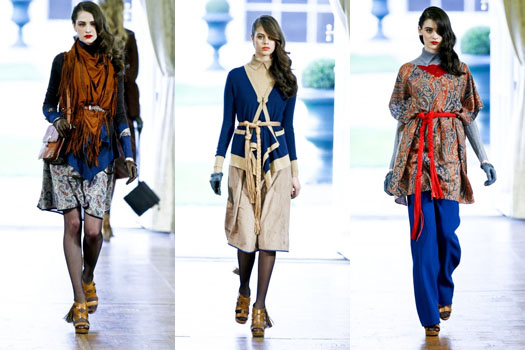 PARIS, Mar 6, 2011/ FW/ — Known for his creative use of the bow tie in his menswear line, Alexis Mabille duplicated that feat in his womenswear line with his use of the braided and tasseled belt as the accessory de rigueur.
With the silhouettes and prints referencing the 1970s beginning with the paisley prints, handkerchief hemlines, loose fitting pants and tuxedo-inspired coat dresses, Alexis Mabille literally and figuratively tied it all together with the tasseled belt!
Some would say that it is a clever gimmick; yet, everything works together so well. And quite frankly, Alexis Mabille is a very accomplished tailor, so there really is nothing to complain about.
And somehow, the designer's clever twists of using very familiar objects like the bow tie had earned him a place in the popular American game show "Jeopardy" for its fashion category.
[MARI DAVIS]
Paris Prêt-a-porter Fall 2011