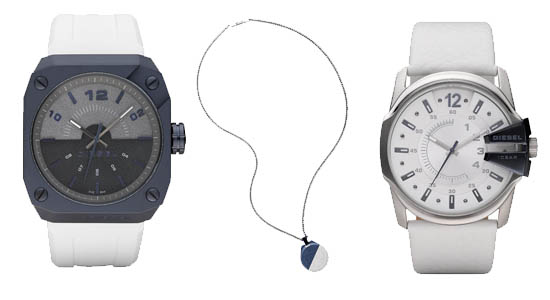 NEW YORK, Mar 4, 2011/ — It's big; it's blue, the all inspiring and terrifying ocean. But you're fearless, you're an AQUANAUT and don't have to be Jacques Cousteau or Captain Nemo to swim or dive off of Diesel Island to wear this collection of deep sea diver inspired watches and jewelry.
Timeframes Collection: How deep can you dive?
Know your starboard from your port? With these watches, who cares; look stylish either way. Inspired by professional deep sea diver watches and dive gauges these watches have it all.
A square case in marine blue is like a gorgeous blue wave, style DZ1432 has a molded white silicone strap, a stainless steel square case with matte marine blue IP plating with knurling texture. The dial is matte grey with a camera texture finish.
Inspired by submarine instrument panels this gear like style, DZ4199, has a matte marine blue oversized case that features chronograph function and three dials.
A molded white silicone strap and grey dials finish the look. A white leather strap on style DZ1451 stands out against the round brushed and polished case with marine blue IP plating with white dial and blue second hand.
A white silicone molded strap with a square marine blue IP crown and pushers has a silver dial with grey sub eyes with honeycomb texture on style DZ4212. Digital style DZ7215 is a first for Diesel with its stainless steel dial encased in white silicone. The pushers and top ring are in matte marine blue and the top ring has added knurling texture.
Jewellery Collection: It's a nautical thing.
Styles every diver needs include DX0466, a silicone disk inspired by a nautical flag is half white and half blue and hangs off a silver stainless steel chain.
Style DX0465 is a white and blue silicone dog tag on a polished stainless steel chain while styles DX0467 and DX0468 are two molded silicone straps in the shape of a watch and are half white and half marine blue. Style DX0469 is a ring that is half white silicone and half marine blue IP plating on the outside with a silver stainless steel shaft inside.
Designed by the Diesel Creative Team, the latest Diesel Timeframes and Jewelry 2011 Collection will be available worldwide from April 2011 in Diesel stores, www.dieseltimeframes.com and www.dieseljewelry.com (US only), select department stores and boutiques worldwide.
Now, if you want prestige watches that has the bold look of the Aquanut, go to Ernest Jones Watches where you can find Emporio Armani, DKNY, Boss Hugo Boss and Gucci, among others.