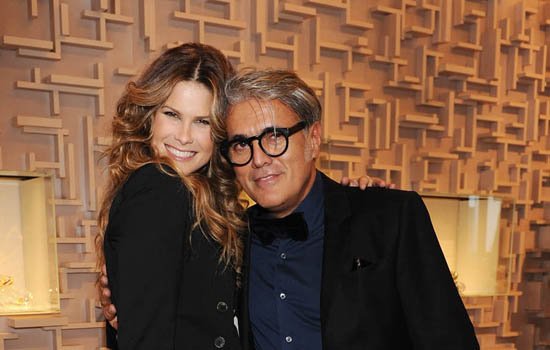 MILAN, Feb 26, 2011 / —The Giuseppe Zanotti Design collection for Autumn Winter 2011-2012 started from an unexpected research, as for a contradictory spy story.
"What is missing – wonders Giuseppe Zanotti – in the range of feminine shoes which already exist in any closet? In order to define new roles and new characters, it has been necessary to approach a new congenial and innate style. And rediscover one's own identity!
With an adventurous and literary approach. Magically, new thrilling feminine figures appear: stars of Raymond Chandler, Léo Malet, Ed McBain, Hitchcock and Fritz Lang. In a background which seems visualized by Raymond Loewy in exasperated hypothetical '50s-'90s, on the background of imaginary Studebaker and Buicks with exaggerated colours. Sky-trains, Coca-Cola bottles, openwork technostructures.
It is anyway a very visual collection, with a new Culture of Illustration, from the Gazette du Bon Ton to Antonio Lopez, an extraordinary Shoes Addict.
Giuseppe Zanotti, with an almost unconscious instinct, revives the graphic and "piquant" world of the late '70s- early '80s starting from Cosmetic Colours with an electric blue, rich of an Oriental spell.
An intense yellow fluo and variations of reds up to the Indian Orange and "Cotto". And surprising combinations in the style of "Mondrian" emphasized by ton-sur-ton upper embroideries. Extreme stylization in the technique of inner platforms which enhance legs and body.
The feminine figure becomes extremely tall with a surprising and acrobatic spontaneity. This collection means a comeback of an extreme "self conscious" look and a new style provocation with a visual technicality.
Accessories
Women warrior jewels, Celtic Queens, legendary Amazones… Artemisia, Zenobia, Boudica, Matilda of Tuscany, Jeanne de Montfort. Decorated metal jewels cover parts of the bodies, feet, ankle, forearms, neck. Fluid knitted rhinestones, gold, titanium, bronze melt with the colour of skin.
Bags
Techno-emotional: with a very special Click! Beauty objects also coordinated to the colours of shoes. "Functional" Swarovski stones, Mega-navettes. As a contrast, black python bags fastened by belts and bikers buckles.
SNEAKING SNEAKERS
A new rap story
Sneakers mean:
extreme freedom of expression
new roles
new statements
acrobatic materials
creative chaos!
As it is for the first GZD unishoes/unisex
Let's sneak into sneakers!
[nggallery id=310]