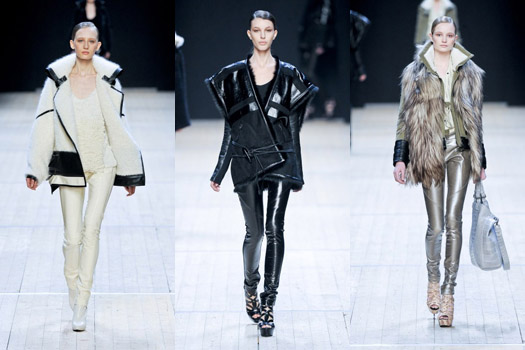 PARIS, Mar 4, 2011/FW/–Starting with the incorporation of homogenous traits, women's fashion has become a bit tough, but the contradiction to ladylike attributes has proven to be uber-feminine.
Simplicity is intriguing when there is one piece that makes a strong statement, and the Barbara Bui collection abounded with these types of outerwear investments.
Shearling coated high collared coats, segmented together with patent leather, mohair, and voluminous nylon paired with super skinny liquid leather leggings delivered a perfect ensemble for the confident natural woman.
Another wondrous piece for the power woman: miniskirts and tunics in black glossy leather and the occasional fur rim. Army green hues and metallic pants gave the neutrals a break, and although the transition was enjoyed in the moment, the head to toe black as well as the brown and off-white textured tones were highly desirable.
[LAUREN SCRUGGS]
Paris Prêt-a-porter Fall 2011