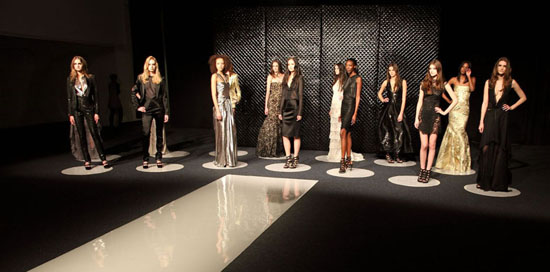 PARIS, Mar 5, 2011/ FW/ — Since its inception in 2006, Caroline Seikaly has been showing her collections in New York. In September 2010, during the Spring /Summer season, the American-Lebanese-French designer started showing in Paris, which by the way is her based of operation.
New York's loss is Paris' gain as exemplified by the young designer's "Star Dust" collection unveiled today. Playing which contrasts and affirming a universe of extreme sophistication, Caroline Seikaly's heroine is eminently a woman with a hint boyishness,
Combining attitude and elegance, glamour and simplicity, sensuality and rigor, to the rhythms and influences of David Bowie and Brandon Flowers, the Caroline Seikaly woman is of today.
Dressing them in the precise and pure cuts of androgynous tuxedos while also being comfortable in the soft fluidity of long draped dresses or the sophistication of long bustier dresses, Seikaly's heroine is a rock and roll princess.
Having grown up in the United States, Caroline Seikaly studied fashion design at the Rhode Island School of Design and collaborated with Isaac Mizrahi in New York.
Upon graduating, she headed to Paris to gain experience in Haute Couture with Christian Lacroix. In 1999, she joined Karl Lagerfeld's creative team and participates in the development of Lagerfeld Gallery.
In 2006, the young designer decided to pursue her passion and creates her own line of special dresses.
Caroline's style is reflected in her use of refined fabrics such as silk and lace; she creates pieces that are contemporary yet timeless, sophisticated yet pure. Caroline Seikaly's collections are now distributed in the Unites States, Asia, Russia and the Middle East.
[MARI DAVIS]
Photos courtesy of Caroline Seikaly
Paris Prêt-a-porter Fall 2011