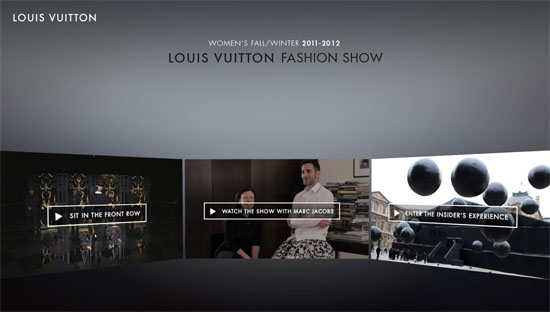 PARIS, Mar 22, 2011/ FW/ — Embracing the digital world completely, Louis Vuitton launches FASHIONSHOW.LOUISVUITTON.COM, a subsite dedicated to the Louis Vuitton Women Fall/Winter 2011-2012 show.
This online event allows users to explore, in any direction, the show space for an experience with no boundaries. Discover Marc Jacobs – Artistic Director- and Katie Grand – Stylist – comment the show with anecdotes on the preparation of the collection. Enter the fashion show space and access panoramic backstage views by passing directly through the catwalk.
Through Facebook, Louis Vuitton fans have exclusive all access of inedited content: inspirations, rehearsals, guest arrivals, and interviews with the models.
Discover the Fall/Winter 2011-2012 Women's Ready-to-Wear collection and universe now available at http://fashionshow.louisvuitton.com. The website is also compatible with iPad and iPhone.
A leader in the fashion world, Louis Vuitton is on the cutting edge when it comes to digital media. It is the first major fashion brand to develop a fully integrated digital communication strategy: "The Art of Travel by Louis Vuitton."
It all began with the launch an official Facebook fan page and an official Twitter account in June 2009. Today, the digital initiatives have expanded, with 6 international Twitter accounts with over 250 000 followers, a Foursquare account with over 65 000 friends, and a dedicated YouTube channel.
The Facebook page has become the official online destination for all that concerns Louis Vuitton. The commitment to feature only pure editorial content has attracted over 2 million international fans to date.
In October 2009, Louis Vuitton was proud to have been the very first luxury brand to broadcast its fashion show live on Facebook. Last year, this experience was enhanced with exclusive 360° views of each style that walked down the runway.
This year Louis Vuitton has gone even further and has launched their first iPhone application Amble, which focuses on the Louis Vuitton art of travel experience. This free application helps users document their travels and discover new hotspots around the world, combining user-generated content with the savoir-faire of Louis Vuitton.
Stay connected with Louis Vuitton at: