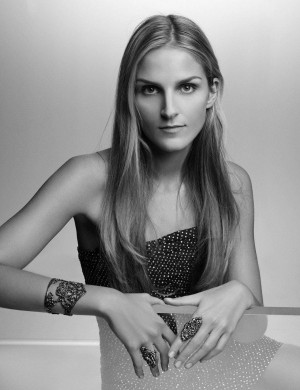 NEW YORK, Mar 10, 2011/ FW/ — Famed French boutique Zadig & Voltaire and jewelry design child prodigy Gaia Repossi have collaborated to create an exclusive jewelry line that according to the designer will "rock; be young and easy with a slightly chic French touch."
Expected to hit all Zadig & Voltaire stores this month (the Paris-based retailer has three retail locations in New York and one in Los Angeles), the new Gaia Repossi for Zadig & Voltaire jewelry line has been inspired by the body ornaments of ethnic tribes and ancient civilization.
To give it a modern twist, Repossi added a touch of art nouveau and art deco elements, and thus making the jewellery truly one-of-a-kind.
Best of all, because the jewelry is targeted for a young market, its price range is affordable compared to the Repossi fine jewelry line that Gaia designs.
Born in 1986, Gaia Repossi studied art history at the University of the Sorbonne and since 2005 has been the Artistic Director of Repossi, a family-owned jewellery house set up in 1920. The only daughter of Alberto Repossi, and great-granddaughter of the founder of the House, Gaia Repossi has within two years imposed her own vision of today's jewellery.
In 2007, the Ère collection which was designed by Gaia, set the tone: precious jewellery but of each instant, a youthful spirit, soon translated into successive declensions that were to be Nérée, Maure and the most recent collection of High Jewellery, Snakes.
Gaia's collaboration with Zadig & Voltaire follows her successful cooperation with Alexander Wang and Joseph Altuzarra.
When asked why she chose to collaborate with Zadig & Voltaire, Gaia immediately answered, "Because it young, fresh and a cool brand."