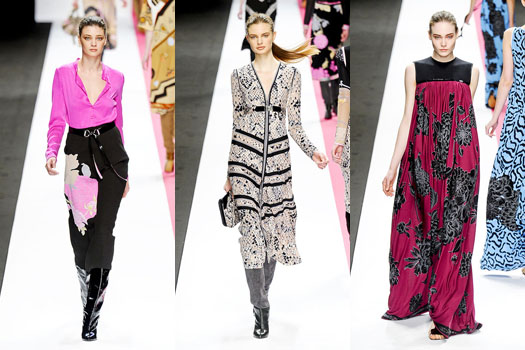 PARIS, March 11, 2011/FW/–Best known for his floral prints, Leonard took luxury to a brand new level this season by introducing a true sensuality that is slightly more graphic than romantic. The aesthetics of Asian-inspired peonies, dynamic tribal contours, alongside tamed panthers and reptiles made a unique statement on flowing, pure lined silhouettes.
Although the prints stole the show, alluring fabric combinations made a commanding statement as well. Strips of tweed or quilted satin were found on Crepon flirt or silk jersey and were occasionally intermingled with printed leather or Milano wool.
Back to the patterns: flamboyant flowers, flowing braids, and a puzzle of stripes and reptilian effects reflected magnetic femininity all the while achieving an attractive geometric position.
Lighter blue and reds blended with pink and sand, with white and black holding strong presence. This collection was visually enthralling, and it is evident that concrete talent produced such focused creations.
[LAUREN SCRUGGS]