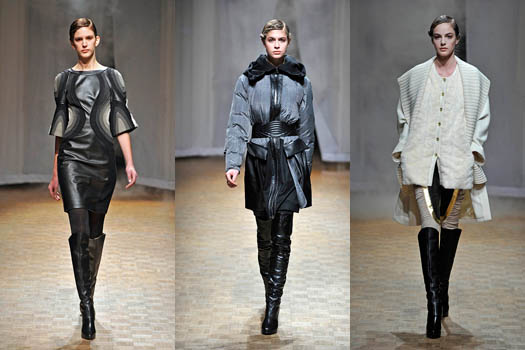 PARIS, Mar 10, 2011/ FW/ — A long time favorite ours here at FashionWindows (it was in 2002 when we first attended his runway show), the Lie Sang Bong show is a must-attend for us at the Paris fashion week calendar.
And as always, our favorite Korean designer did not disappoint as he sent a collection that was inspired by nature and religious temples sitting on top of mountains, and thus achieving fashion zen!
The fluid grace of arched lines and curved horizons was translated by Lie Sang Bong into cuts, drapery, quilting and embroidery on clothing. Giving the symbols of Zen a modern twist, Lie Sang Bong created representations of mountains, wind, waves and clouds using hand-stitched embroidery and prints.
Decorative patterns are created by the juxtaposition of fabrics and colours. Prints of the Korean letters that spell FRIEND capture the essence of the collection.
Noble and natural fabrics such as wool, silk, cotton and leather are used with cloque details and combined with a restrained earthy palette of beige, brown, grey with splashes of gold.
The silhouettes this season are more restrained than previous seasons and reflect the sense of calm of the collection. Fabrics have been created that have a flower-like quality. The leather bags reinterpret the ubiquitous cloth bags carried by monks without losing the simplicity of the original. Outerwear is referenced in the elegant feather light puffer jackets.
[MARI DAVIS]
Photos courtesy of Lie Sang Bong
Paris Prêt-a-porter Fall 2011
[nggallery id=328]