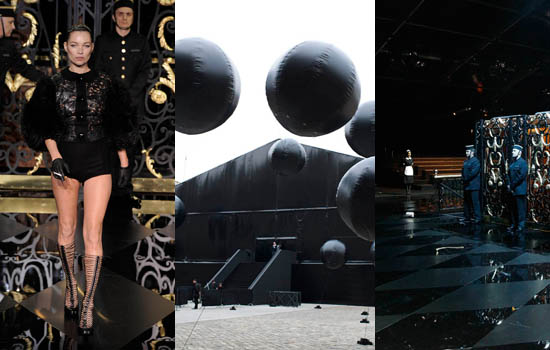 PARIS, Mar 9, 2011 / FW/ — Arriving at the Louis Vuitton venue, it is very hard not to get impressed! An all black tent surrounded by gigantic black balloons. Inside you are greeted by French maids and uniformed door men.
What really catch your eyes are the four elevators at the center; you knew immediately that it was part of the show. What was not obvious was that it was where the models would come out. Those were working elevators!
The music starts and by then you knew. There were a lot of sexual innuendos in the show – a late night rendezvous wherein one was just getting home from one, or going to one. S&M and bondage were also hard to miss, thanks to all the leather and body hugging patent leather vests. And don't forget the corsets!
Still amidst this sexy catwalk extravaganza that included Kate Moss closing the show wearing boy shorts and laser cut top with mutton sleeves smoking a cigarette, there really were a lot of gorgeous things to wear beginning with the bags and shoes.
From the LV-stamped and Louis Vuitton monogram bags, to shoulder bags and wristlets, it's a bagista's fantasy come true! And if Imelda Marcos was still a young woman, she would have gone for the platform-heeled Wellington boots and stacked heeled Mary Janes.
Marc Jacobs never missed a beat as he sent out obi-wide belts that sometimes are more corset-like than belt-like accessorizing laser cut dresses, sequined separates and full-skirted dresses with baby collars.
[MARI DAVIS]
Photos by Chris Moore and Mazen Saggar, courtesy of Louis Vuitton
Paris Prêt-porter Fall 2011
[nggallery id=326]