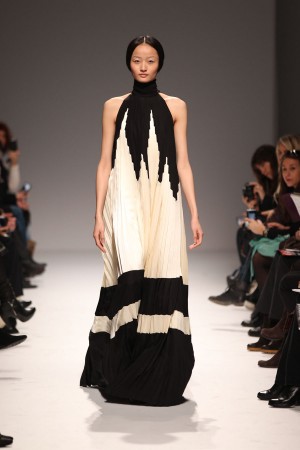 PARIS, March 5, 2011/FW/–The laid back way of the seventies was the string that tied the Martin Grant collection together as long hemlines and ultra feminine pieces floated down the aisle with the most graceful ease.
Black, white, and red mixed beautifully together with hints of deep caramel and rich maroon hues, and liquid leather leggings and trenches in canary red and nude melded well with silk, fox fur, and wool fabrics.
The initial look presented a perfectly tan trench coat that dramatically elongated the model's figure, with a slit in the back that extended past the knees. The contrast of movement and relaxed poise coincided flawlessly with the contradiction of deep-v and raised necklines and showed that relaxed notions can be interpreted in variety.
The vertically pleated ground length silk dresses highlighted the exquisite collection, and smock waisted burgundy pantsuits never made loose elegance look better.
[LAUREN SCRUGGS]
Photos courtesy of Martin Grant
Paris Prêt-a-porter Fall 2011