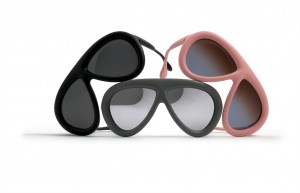 NEW YORK, March 24, 2011 / FW / – Product quality and signature design has made Mykita an international name.  Known by its patented hinge concept and avant-garde framework, the founders – Moritz Krueger, Philip Haffmans, Daniel Haffmans, and Harald Gottschling creatively made a niche in the eyewear market since 2003.
Worn by Sarah Jessica Parker to Lady Gaga and Brad Pitt to Tom Cruise with designer collaborations such as Bernhard Willhelm to Alexandre Herchcovitch – Mykita is not just an accessory … it is a fashion brand with the option for bifocals.
A Mykita campaign veteran since 2009, New York based photographer Mark Borthwick has been tapped again to create 2011's look book and the first MOOD Film using a retro Super 8 camera.  Borthwick's work taken at Ibiza was displayed on canvases while the frames begged to be "tried on" presented on white steel shelving.
The following showcase the 2011 collection:
Tiago and Xenia from the 'No1' series (or as I like to call Miami and Greece) show the classic elements of 1960s Nylor frames.
Holly from the 'Decades' series is perfect for the fashion chic, business circuit, or Madmen.
Leif and Tomma from the 'Lite Sun' series is the lightest frame from Mykita invoking a Southern California feel to the coast of Italy.
Elsa from the 'No2' series has a feminine librarian feel that can be seen in from the financial world to the political circles such as DC.
Frederic, Jacques-Yves, and Philippe from the 'Mylon' series collaborated with Bernhard Willhelm show a fun, fashionable, and diving mask inspiration that can be seen in future editorials to musicians such as Nicki Minaj and Kanye West.
Cyrus from the Agathe Snow collaboration is a limited two-tone frame that shows either the skyline of New York or the Pyramids of Giza (seen only when removed).
Aviator glasses will always be in.  When Uslu Airlines co-designed with Mykita, the product is the 'Bob and Eve Jet Sets' from airport destination codes Bora Bora and Evenes in Norway.  Offered in three color, Grey-Brown, Neon Yellow, and Lilac – the sunglass along with nail polish is packaged in mini-travel suitcase.
All handmade in Berlin, Mykita is available worldwide in 60 countries with the main stores located in Berlin, Vienna, Zurich, Paris, Monterrey, Tokyo and department stores.  In varying colors with different styles, Mykita's silhouette has an option for anyone and anywhere.
[ELGENE CASTUERAS]
Photos by Mykita