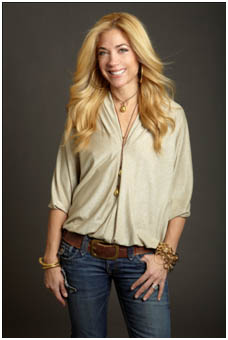 NEW YORK, Mar 16, 2011/ —Ramy Sharp is the Founder and Creative Director of the Ramy Brook ready-to-wear label. Born in Chatham, New Jersey, Ramy was interested in fashion at a very young age. Influenced by her mother's chic style and her older sister's passion for vintage clothing, Ramy developed her own sense of style very early on.
After studying Communications and Political Science at Muhlenberg College in Pennsylvania, Ramy moved to New York City where she worked in advertising for seven years. In 1997, Ramy had her first child and decided to put her career on hold to raise children.
In 2009, Ramy decided to go back to work and pursue her dream of creating her own fashion line. After years of searching for the perfect pieces to wear, and imagining what those styles would ideally look like, Ramy wanted to share her vision by creating a collection of chic and wearable pieces that can take women from day to night.
"My sensibility always went to sexy first, in a way that highlights the natural inner and outer beauty of a woman. Often these were low cut tops or mini's, incorporating the sexy drape of beautiful fabrics in shapely, but comfortable forms. Most importantly, I wanted sexy presented in a sophisticated manner."
In January 2010, Ramy launched Ramy Brook, an ultra-chic collection of tops and dresses made in luxurious fabrics such as crepe, jersey, charmeuse and chiffon. The brand is a reflection of Ramy's personal style: sexy, sophisticated and simple. "My vision is for women who wear Ramy Brook designs to feel beautiful, look glamorous and exude confidence, knowing that they are wearing something special," Ramy says.
Ramy currently lives in New York City with her husband and their three children.