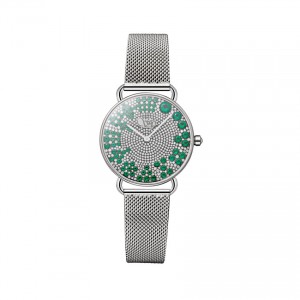 LONDON, Mar 21, 2011/ — With the mantra, "Time is beside the point", Solange Azagury-Partridge introduces the new Rounds Watch collection which has become more precious and unique with its unconventional design.
And as the name implies, everything about the Rounds watch is round, from the domed glass fronting to the circular case, the seventy eight brilliant cut diamonds on the face and even the curved lugs – two little devil horns – which hold the watch strap snugly in place.
With a rose cut diamond on the winder and a sand blasted, blackened white gold face, the only straight lines on the watch belong to the hands.
A woman's day in day out watch or a man's dress watch, the face is unimpeded by the necessity of numerals. Each number on the clock face is a mini constellation: a fat diamond for number one, twin diamonds for number two and so on. This watch gives good face.
When computers and phones tell the time, watches are superfluous to our needs and so one's watch just has to be special, a beautiful item of jewellery.
The Rounds watch is available in 18ct yellow, white and red gold with white or coloured diamonds and now in a fully paved dial version. Bespoke creations can also be crafted according to the individual's preference. The Rounds is Swiss made and houses a Swiss quartz movement.