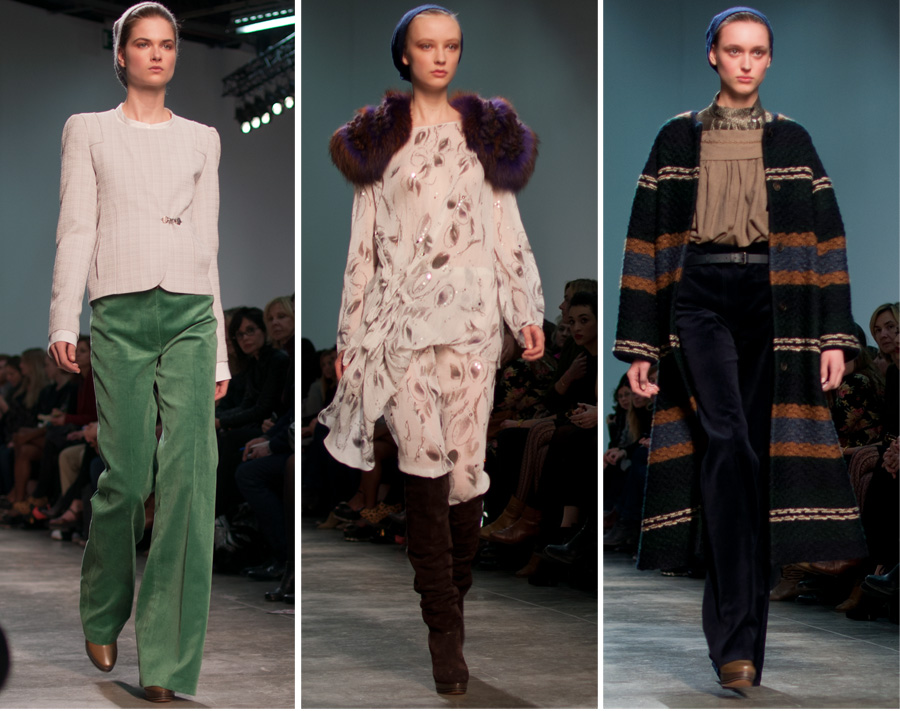 PARIS, March 9, 2011/FW/– Little house on the prairie on chic-steroids might describe the Vanessa Bruno collection held on Monday night in the Palais de Tokyo. Opening with white on white layering, slouchy leather boots over scrunched sweater socks, and a floppy hat released some foreshadowing into a collection that professed confident innocence at its finest.
Draped and smocked white shirts found themselves underneath twisted sand colored sweaters and overtop delicate skirts with uneven hemlines. A long trench took turns with a short brocade jacket paired with cream creased trousers; included in the layering were chunky knits and key hole blouses with an occasional metallic, reptile-looking fabric on outerwear.
High slits, light fabrics, and floppy wool coats did their job by contrasting textures and shapes without making the extensive layering too overbearing and unflattering. Long hemlines in pretty prints left us gazing in peace, wishing we were frolicking in a field with our fur shoulder scarves, loose knits, and long flowing skirts.
[LAUREN SCRUGGS]
photos by Megan Leahy
Paris Pret-a-porter Fall 2011