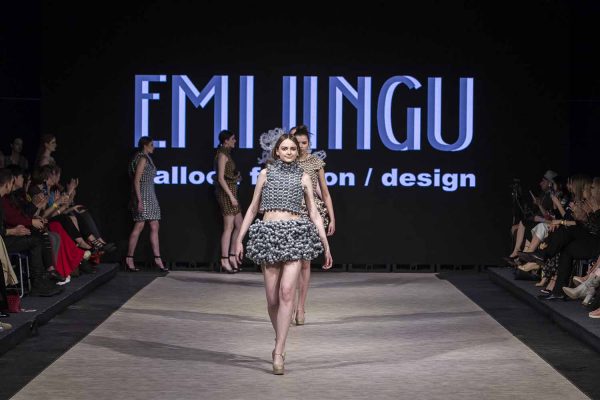 Bubbles! That was the first thing that came to mind when I saw the Emi Jingu Fall 2019 collection where the Japanese designer showed off the endless artistic possibilities of balloons.
Titled "Unlimited," the audience was easily captivated by Emi Jingu's avant-garde take in modern dressing. Toeing the line between sci-fi/fantasy and the real world, the collection proposed cocktail and mini dresses that surprisingly are very wearable! It might look costumey, but these clothes will be a hit on the red carpet.
Using the unique material of balloons, Jingu pushes artistic boundaries as she effortlessly coordinates a metallic palette of grey, bronze and gold tones while intricately layering balloons of different dimensions in such a way to create elegant couture silhouettes.
Jingu's dresses featured peplum-styles, slim bodices, and flared skirts, highlighting her extraordinary talents. The eccentric garments were complemented with sleek hairstyles, glossy makeup with ashy tones, and stilettos to encompass the chic futuristic style.
Photo by Filippo Fior / Imaxtree.com