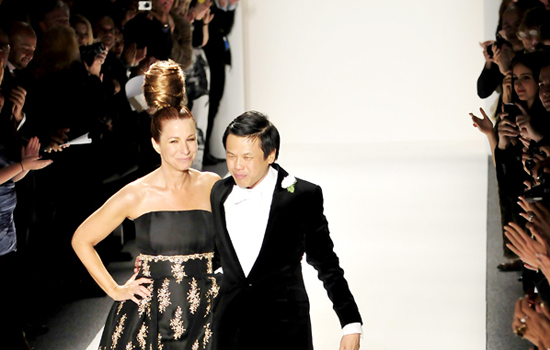 NEW YORK, Mar 21, 2011/ FW/ — To fashionistas, Zang Toi does not need an introduction. Having dressed some of the world's most recognizable women that include Sharon Stone and Melinda Gates of the Bill & Melinda Gates Foundation, the New York-based designer is has become a by-word among the fashion elite.
Still, when children from pre-K to Grade 8 come knocking on your door saying that you are a successful role model both as a fashion designer and as an Asian immigrant, it warms the heart in more ways than one.
Because, as an old saying goes, children are our future and for these young minds to see Zang Toi as a role model is both a privilege and an honor.
On, Friday, May 13, 2011, during the Transfiguration Education Association Annual Dinner, Malaysian-born to an ethnic Chinese family, Zang Toi will be honored by the Transfiguration Education Association for his contribution in the field of Fashion as his success as an Asian role model.
In the letter inviting Zang Toi to attend the dinner and accept the Award, Rev. Raymond Nobiletti of the Transfiguration School said, "On behalf of the Transfiguration Education Association, I would like to request your presence at our Annual Dinner this year to honor you for your outstanding achievements in fashion and your charitable contributions."
"Your accomplishments through hard work and determination are symbols of the successful advancement of immigrants while your charitable work serves as a role model for all to give back when they can," Father Nobiletti added.
Founded in 1832, the Transfiguration Catholic Elementary School serves the immigrant communities of the Lower East Side of Manhattan. For the past 179 years, the School continues to maintain an outstanding record of academic excellence.
The Transfiguration Education Association was formed fifteen years ago by a group of business, education and community professionals interested in providing support and service for education in the New York Chinatown community.
Since 1995, Transfiguration Education Association has annually honored individuals and foundations at its Annual Dinner to highlight the roots, culture and goals of the Transfiguration education. The honorees have come from the field of education, entertainment, philanthropy and public service.
This year, the annual dinner will be held on the evening of Friday, May 13th at the Jing Fong Restaurant in Chinatown, New York.