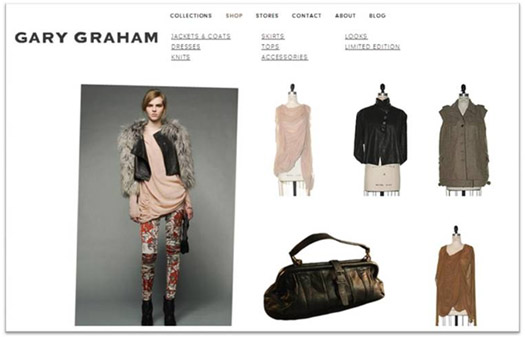 NEW YORK, Sep 1, 2010 / FW/ — New York-based designer Gary Graham launched his latest brainchild yesterday – www.garygrahamnyc.com 
Known for his dark and romantic aesthetic with a strong focus on versatility and individuality, Graham will offer special one-of-a-kind pieces that were once available only in his boutique along with his main ready to wear collections on the site.
A full-pledged e-commerce site, GaryGrahamNYC.com also feature an insider's look into the making of the collection, a store blog, special events, and a behind the scenes view into the store and the company.
Excited about the new site, Gary Graham decided to communicate with his friends, fans and customers directly via "Gary's Journal", a personal account written by Gary Graham himself, which is also one of the two blog in the website.
The other blog – "Store Blog" is written and curated by Gary Graham and his staff. The store blog will act as a virtual window into the store and depict the evolution of the collection from inception to shop floor to how the pieces get incorporated into a wardrobe.
Categories within the blog will include inspirations, sketches and wall & table; including images of Gary's creative space and designing process. It will display original artwork and films that document some of the unique washing and dying techniques Gary uses to create the signature Gary Graham aesthetic.
New ways of wearing individual pieces and examples as to how to incorporate them into a variety of looks will be offered as well. Gary will also have a special area dedicated to friends, several who are artists, musicians and writers who have played a key role in his design process. The blog will also feature creative collaborations and noteworthy women that he dresses.
In addition to the website, Gary Graham is available for purchase at his store at 176 Franklin Street in Tribeca, within the Gary Graham boutique at ABC Home, and at specialty retailers.