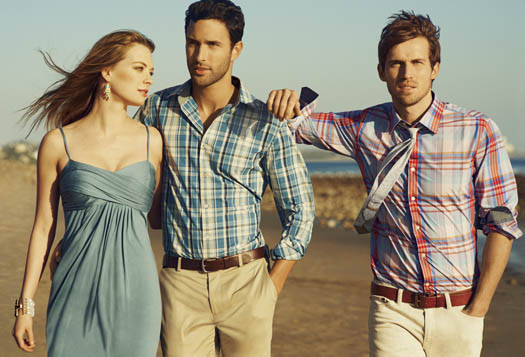 NEW YORK, Apr 15, 2011/ — With the distinctively carefree attitude of summer, Banana Republic's Summer 2011 campaign gives a nod to the brand's effortless chic and sensibility.
Drawing on the unique blend of components that can create one's own perfect summer, the campaign offers an inspired take on the brand's spirit combined with the season's 'anything goes' sensibility. Resonating with modernity and ease, the platform is a perfect reflection of the collection it encapsulates.
The backdrop of the campaign is one of Malibu's most beautiful sea-side homes, with its playful architectural elements and breathtaking canyon views reflecting the running theme of camaraderie and endless possibilities. The campaign captures fun-loving couples and friends enjoying their own versions of an ideal summer – reflecting the notion of being comfortable where you are, wherever you are.
Campaign imagery highlights favorites from Banana Republic's summer collections, including floral patio dresses and sateen cropped pants paired with floral tops for women, with a focus on crisp linen suits, linen shirt and pant separates, as well as colorful madras for men.
Shot by celebrated photographer Peter Lindbergh – a first for Banana Republic – and styled by Lori Goldstein, the campaign features models Elettra Wiedemann, Julia Dunstall, Ana Paula Aruajo with Andrew Cooper and Noah Mills.
Developed with AR NEW YORK, Banana Republic's advertising agency of record, the campaign will appear in May and June publications, supplemented by print, outdoor, online and direct mail.