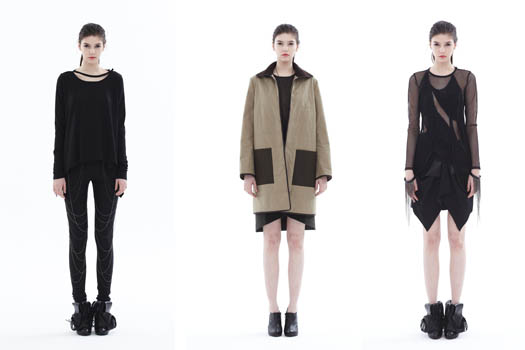 DALLAS, Apr 17, 2011/ FW/ — The brainchild of Kiho Kim and Momoko Hashigami, Coinonia came from the Greek word "Koinonia" which means "sharing, relationship and communication".
To the designers, COINONIA is working as a team while sharing their creativity, passion, and philosophy for fashion and life. Founded in 2010 in Milan, Coinonia launched its first collection, Fall 2010 / Winter 2011 in Paris.
The designers take a different approach when creating a garment. Instead of the "drawing board," the collection pieces are first created on mannequins to be given a life and a story by hand under a seasonal concept.
Experimental and architectural shape, dynamic cutting, and sensitive details and colors are then introduced to define their characters. Narrative and conceptual mood is always there as the essence of their works. Feminine but masculine, still but dynamic, tender but hard… These contradictions are the source of their creation to be mixed up and give a birth to new designs.
Kiho Kim graduated from Hangseung University in Seoul, worked for Parkyounsoo as an assistant designer for 3 years. Then he studied pattern making at Carlo Secoli in Milan and fashion design at Polimoda in Florence.
During his study he won several international competitions and was a finalist for ITS3. After finishing his studies he worked at Antonio Marras for 4 years.
Momoko Hashigami majored in international studies at Aoyama Gakuin University in Tokyo, then studied at Tokyo's Bunka Fashion College. She graduated from the women's fashion department of Central St Martin's, London.
While studying she gained work experience at John Galliano and other Paris fashion houses. She participated in several international competitions including ITS4. After graduating Momoko spent 2 years at Antonio Marras.
Coinonia Fall 2011: 'Off-Tension'
[nggallery id=336]