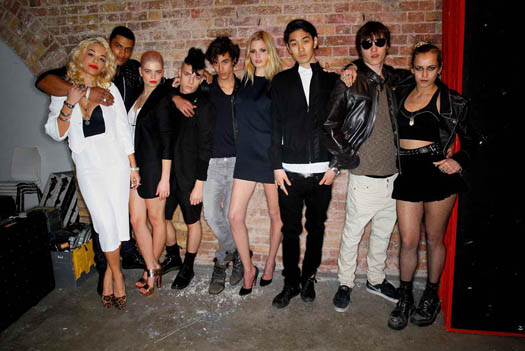 LONDON, Apr 16, 2011/ — MTV PUSH and ck one announced hosted an exclusive party Thursday night at Shoreditch's Village Underground, in what proved to be one of the most exciting events on the London fashion and music calendar this year.
The event featured performances by American rising star Alexis Jordan, UK superstar Katy B and notorious grime MC Wretch 32.
DJ support came from London fashion icon Princess Julia and fashion week favorite, Jerry Bouthier and current ck one models Pixie Geldof and Alice Dellal who were accompanied on stage by other ck one talent Robert Evans, Aaron Frew, Jackson Blyton Megran, Callum Wilson, and Tomo Aki Kurata.
The event was hosted by Dutch supermodel Lara Stone – the current face of Calvin Klein – and was attended by some of today's top fashion and music celebrities.
In addition to Ms. Stone, the following guests who attended the event and were wardrobed in Calvin Klein Collection, ck Calvin Klein and ck one, included: Pixie Geldof, Alice Delall, Robert Evans, Rita Ora, Aaron Frew, Jackson Blyton Megran, Callum Wilson, and Tomo Aki Kurata – all of whom are currently featured in the Spring 2011 ck one campaign shot by Steven Meisel – as well as Mary Charteris, Bip Ling, Ben Grimes, Portia Freeman and Sara Blomqvist.
Other celebrities in attendance included Leah Weller, Clara Paget, Jameela Jamil, Laura Whitmore, Freya Mavor, Kate Moross, Henry Holland, Katie Grand, and Freddie from The Vaccines.
The event featured the dynamic creative from the ck one advertising campaign, with a replica of the "ck one box," where party-goers queued to be filmed and star in their very own viral ck one video, with the chance to be featured at ckone.com.
As previously announced, MTV PUSH in partnership with ck one has kicked off an exciting series of exclusive and unforgettable live music events all set to take place in some of the world's major international music hubs.
Beginning with this event, the parties continue in the coming weeks in Berlin, Beijing and Mexico City. Each event will feature former MTV PUSH headliners alongside supporting acts and DJ's from each region.
Following each event, filmed content will be available to view via the MTV PUSH pages on all of MTV's international websites – as well as on www.ckone.com . Further announcements will be made with regard to the event dates, venues and specific artists at a later date.
Photos by Dave Benett and Andrew Timms