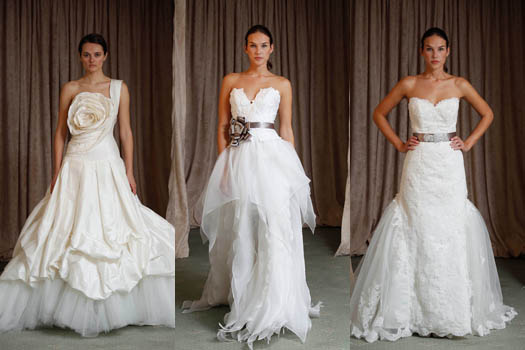 NEW YORK, Apr 15, 2011/ FW/ — Unveiled last week here in New York during Bridal Week, the St. Pucci Spring 2012 bridal collection takes an avant-garde approach to altar dressing.
With Award-wining designer Rani Totman at the helm, St. Pucchi moves to the future with modern silhouettes and textures taking center stage.
"With a focus on fabrication, this collection is inspired by the futuristic appeal of geometrics combined with femininity and romance," says Rani. "It celebrates the simplicity and minimalism of modern contemporary structures."
Proposing 8 new designs this season, Rani pays homage to the feminine form. Intricate designs with beads and crystals are replaced by fabrics manipulated to create different textures.
The collection consists of strapless gowns with sweetheart necklines, one shouldered gowns and modified mermaid pieces built from luxury fabrics like pure silk organza, silk shantung, ricamo net, tulle and Alencon lace. Totman's signature touch adds an element of surprise to each style with elaborate flower forms and geometric designs.
These 8 silhouettes will join St. Pucchi's 25th Anniversary collection showcased in October Bridal Market. The 25th anniversary collection is a blend of styles that have worked throughout the years, incorporated with modern trends and contemporary silhouettes and brought to life with rich embellishments that adorn the finest silks.
Photos courtesy of St. Pucchi
Bridal Fashion Week Spring 2012