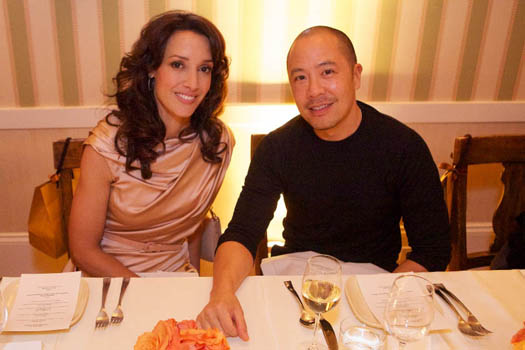 CHICAGO, Apr 15, 2011/ — On April 14th Tod's celebrated the reopening of its Chicago outpost with a cocktail party at the boutique benefiting the Auxiliary Board of the Art Institute of Chicago.
The event was co-hosted by Tod's Creative Director Derek Lam and a social committee including actress Jennifer Beals,; philantrophers Toni Canada, Melissa McNally, Nancy Crown, and Susan Crown, Meredith and Patrick Wood-Prince, interior designer Julie Latsko, entrepreneurs Abigail Rutherford and Rochelle Trotter.
Afterward the cocktail event there was an intimate dinner hosted by Derek Lam for about 30 guests at nearby acclaimed restaurant Table 52. Guests included members of the host committee along with other notables such Julia Van Nyce, WWD's Beth Wilson and Chicago Magazine Fashion Director Heiji Choy Black.
The newly refurbished Chicago boutique, which first opened in 2000, has been re-imagined according to the new worldwide Tod's design concept, to accommodate the brand's growing line of products.
Tod's Chicago measures 1,250 square feet, including new, additional space, and is constructed according to the new Tod's design concept, which perfectly expresses the tradition of luxury and craftsmanship that is synonymous with the brand. The renovated boutique features custom-made carpeting and sofas in neutral tones, freestanding light fixtures and signature vachetta leather accents. Special interior fixtures finished in lacquer, oak and chrome will showcase the company's expanding small leather goods collection.
The new look for Tod's stores is designed to make customers feel comfortable and relaxed – as if the store environment is a home-from-home for them. What makes it special is the perfect balance between the essential Tod's brand DNA with personal design accent.
Following last year's successful redesigned of the most important Tod's global flagship boutiques that each feature a contemporary, comfortable and warm retail atmosphere featuring unique local art décor, decorative pieces and special furniture, this boutique expresses the tradition of luxury and craftsmanship synonymous with Tod's design. Upon entering the space, you really feel as if you are walking into a close friend's inviting and impeccable home.
Chairman and CEO of the Tod's Group, Diego Della Valle, says, "I am happy with the redesign of the Chicago store. Chicago is a great city, full of wonderful architecture, and so it is only fitting to celebrate personal design accent with this new boutique."
The renovated Chicago store is one of the few Tod's boutiques to carry the full ready-to-wear collection designed by Tod's Creative Director Derek Lam, in addition to the brand's other product categories: men's and women's shoes, handbags and small leather goods.
A limited edition handbag has been created to mark the Chicago redesign: an apricot, calfskin leather tote, in the new silhouette of the season. This colour was made especially for the boutique, and inside, each bag is embossed with the words: "My Tod's Special Edition". The special limited edition Chicago handbag retails for $1,500 and only 35 are on order.
Tod's first received worldwide recognition with the creation of its "driving shoe", known as the Gommino, in the late 1970s. The driving shoe, identified by the 133 rubber "pebbles" – or gommini – on its sole, is the brainchild of Diego Della Valle. The introduction of the Tod's handbag collection in 1997 catapulted the brand to a new level of recognition, and today it is one of the most successful luxury goods companies in the world.
There are currently 159 directly owned Tod's boutiques worldwide, and there are 8 freestanding boutiques in North America. Tod's products are coveted by many influential style makers, including the likes of Jessica Biel, Anne Hathaway and Charlize Theron.