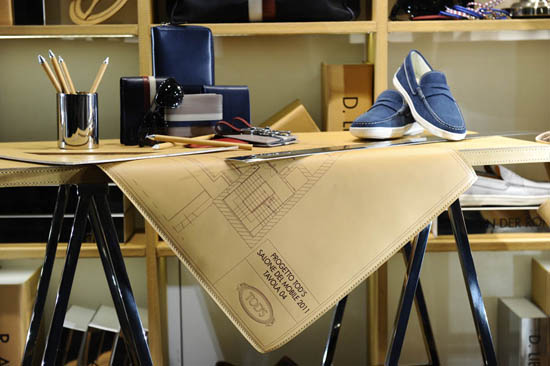 MILAN, Apr 15, 2011/ — While Tod's was celebrating its newly redesigned boutique in Chicago, the Italian luxury brand was simultaneously presenting an iconic global look at the 2011 Salone del Mobile in Milan.
Tod's shows its ongoing commitment to design with an inaugural cocktail party at its Via Della Spiga flagship boutique to celebrate Milan's 2011 Salone del Mobile, at which it will exhibit a specially commissioned piece of contemporary art and a dedicated store and window display of the Tod's iconic Marlin Hyannisport shoe.
To reflect the idea of the brand's worldwide vision, artist Felice Limosani has created an enormous rotating 'Globe' made from more than 14,000 wooden pencils. The continents are made from erasers in the Tod's orange shade, an artistic metaphor representing the rubber 'pebbles' found on the sole of the iconic Tod's Gommino shoe.
"This piece reflects the Tod's World, which naturally rotates between design and art," says artist Felice Limosani.
Tod's has for several years chosen to celebrate the annual Milan Furniture Fair, aligning itself with this important international event in recognition of the extraordinary craftsmanship, traditional skill, design excellence and, often, leather know how that goes into the creation of the finest pieces of furniture and works of interior design. In this way, the world of furniture design shares many similarities with that of Tod's, where products are made using artisanal skills that date back many, many years.
2008 marked the beginning of Tod's involvement in the Salone del Mobile, with a project entitled Looking at Tod's. Here the famous Italian interior design company, Cappellini, commissioned renowned interior designers BarberOsgerby, Ineke Hans and Patrick Norguet to create special window displays that were featured in Tod's flagship boutiques around the world.
During the 2009 Salone del Mobile, Tod's hosted an in-store Design Icons installation, displaying the Tod's iconic Gommino shoe alongside 10 iconic chairs designed by the likes of Marc Newson and Ron Arad, all personally selected by Cappellini for the occasion.
The Cappellini/Tod's partnership was ignited again in 2010, this time through an exhibition celebrating remarkable pieces of design that transcend time. Iconic Tod's pieces were featured alongside works by some of the design world's biggest names.
Tod's President and CEO Diego Della Valle says, "I like the values that the Milan Salone del Mobile represents – innovation, high quality and a love of creativity. Art and design are a big part of the Italian soul and lie at the heart of Made in Italy."
In celebration of the Salone del Mobile, the Tod's Marlin Hyannisport is presented throughout the boutique with a dedicated display that highlights its iconic global style. In the softest supple leather that adapts perfectly to the shape of one's foot thanks to a special technical production normally used for gloves, the unexpected balance of rubber and precious materials results in a state of the art, flexible and ultra-light shoe.
Skilled artistry and detailed hand stitching in natural hemp results in an impeccable, unique Tod's design, recalling that distinct sense of relaxed artistic chic, which works for a more formal urban and casual lifestyle.