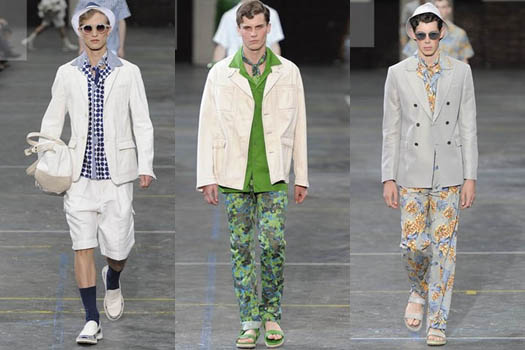 PARIS, June 25, 2011- In a retro, surfin' safari, kind of setting, Kenzo showed us its lively Spring 2012 collection.  Full of floral prints, bright colors, short suits, and avant garde sunglasses, this show made us feel like we were on vacation for a moment.
Inspired by Hawaii in the 1960s, an era of happiness and simple pleasures, the decade represented more than just a style of dressing, but a style of life and a manner of being.  Like an array of photos from Slim Aarons, the Kenzo menswear collection offered a perceived world of the happy vacationer, light hearted, liberating, and bright.
From Hawaii to the Côte d'Azur, Kenzo evoked the casual elegance of this era and the atmosphere of mystical summers.  The collection was an ode to the mix and match capability of clothing to please individuality.  Full of tones of blue and yellow, then electric pops of fuchsia, the collection was brought together by the vintage Hawaiian prints seen on shirts, shorts and jackets.
Retro and candy colored, the Kenzo Spring 2012 beach party is one we would glady attend.
[LINDSAY MCCALLUM]
Paris Menswear Spring 2012