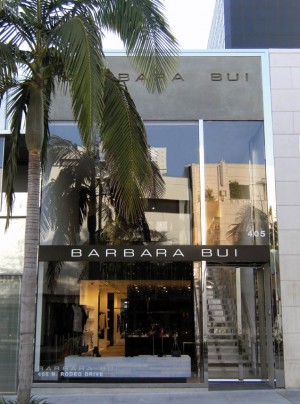 PARIS, Jul 29, 2011/ FW/ — An oft reference in her catwalk shows, Barbara Bui has finally taken the plunge and opened a flagship store on Rodeo in Los Angeles.
Conceptualized by William Halimi with Erna Corbetta as architect, the new boutique is perfectly located in Beverly Hills. This new flagship store represents the core values of the Parisian luxury brand with a relaxed Californian feel.
The feeling of the boutique is airy and spacious with a huge window opened on a duplex store.
Upstairs the feeling of spaciousness is total and puts forward the display of the collection. The back of the store is a very large open space that has got ample seating and sets up perfectly for cocktail parties, Private VIP shopping and lounging. There is a large private dressing room that can cater to celebrities and VIP shoppers. The store is chic, sleek and modern, with concrete floors, tinted glass and clean lines. And yet warm and inviting at the same time with the California sunshine and natural elements lighting up the space.
This confrontation of rough and natural materials with the sophistication of shinny and lacquered materials is a true reflection of Barbara Bui's collections where masculinity and femininity oppose each other. A store tailored to the Barbara Bui woman, androgynous but with deep feminine sensibility.
Rebellious to the fashion diktat she pursues in Barbara Bui's collections cuts and high quality materials to dress the rebel spirit that inhabits her.
The merchandise is geared toward the relaxed elegance of the LA customer. The store gives the customer a complete view of the Barbara Bui world, offering her everything from her day bag and silk separates to her leather jacket, suede booties and clutches for nights on the town.
BARBARA BUI Boutique
405 N. Rodeo Drive
Beverly Hills, CA 90210
Tel: +1 310 275 44 52