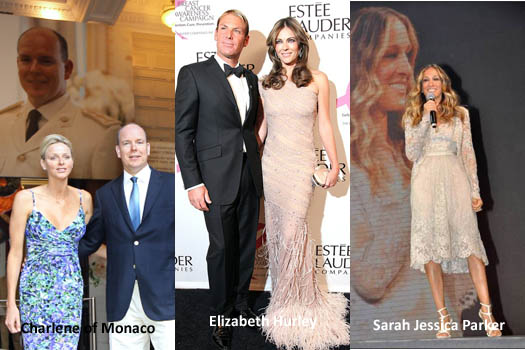 DALLAS, Jul 22, 2011/ FW/ — Closing the week, we have Princess Charlene of Monaco, Elizabeth Hurley, Sarah Jessica Parker, Jaime Chung, Katy Perry, Michelle Obama.
Amidst rumors of their marriage being on the rocks even before it started, Princess Charlene of Monaco with her husband Prince Albert attended the "History of Princely Wedding" exhibition in Monaco on Thursday, Jul 21, 2011. The Princess wore a vibrant floral print Roberto Cavalli gown.
Meanwhile in Princess Charlene's native South Africa, actress/model Elizabeth Hurley attended the Estée Lauder's Pink Illumination Ball wearing a Blumarine Gown. The event was held Thursday, July 21st, 2011 in Johannesburg, South Africa.
Across two oceans and two continents, Sarah Jessica Parker wore a silver lace cocktail dress with grosgrain detail at the waist and silver long sleeve jacket, from the ELIE SAAB Haute Couture Spring-Summer 2011 collection during the Artistry Fall/Winter 2011/2012 launch in Shanghai, China on Thursday, July 21, 2011.
And back here in the U.S., First Lady Michelle Obama was seen wearing a Merona for Target dress yesterday while visiting the Joining Forces program at Oceana Naval Air Station in Virginia Beach.
Mrs. Obama first wore this dress in September 2009 for a family trip to Arizona proving that style can be obtained at any price and worn more than once!
On July 22, 2011, singer Katy Perry chose to wear Versus during her appearance on MTV News. The gorgeous singer was featured on MTV News today, where it was revealed that she is the artist nominated in the most categories in this year's Video Music Awards with nine nominations – including "Video of the Year." She wore a look from Versus Spring/Summer 2011 – a sleeveless, multicolored striped cocktail dress.
Actress Jamie Chung wore What Goes Around Comes Around 's Dickinson Mongolian Fur Vest while hosting WGAC's LA Store Opening on July 21, 2011 in Los Angeles, California.
[MARI DAVIS]