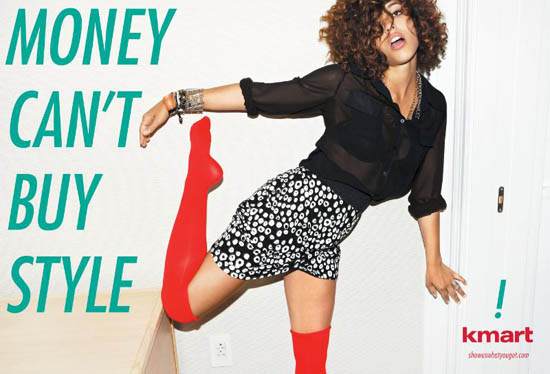 DALLAS, Jul 20, 2011/ FW/ — Attention Kmart shoppers! This is not a Blue Light special; this is the new Kmart! Unveiling an unexpected campaign titled "Money Can't Buy Style", Kmart re-launches itself as a fashion destination.
With the advertising aimed at empowering customers to embrace their individualism when approaching fashion, Kmart wants its customers to emphasize self-expression in fashion rather than focusing on brand names.
"Our goal is to get people to look at Kmart apparel differently," said Tara Poseley, president of Apparel at Kmart. "We took a fresh approach in our campaign with a message that truly embodies what Kmart does best — making the aspirational attainable. We have great fashion that we're not getting credit for today. We hope the campaign will get people to consider us for what is a very compelling brand portfolio."
In an era of name recognition and labels, Kmart's approach in its re-launch as a fashion destination is unique. While Target, H&M and Mango, all of which have proven that partnering with a big name designer to be very lucrative, Kmart's different take in fashion is a true novelty.
But, will it be enough?
Robin Creen, chief marketing officer of Apparel at Kmart believes that the new campaign "hits the mark in conveying how fun and accessible fashion can be, by capturing the essence of real people who know how to put it all together."
The new campaign will launch in September with an assortment of print, digital and outdoor advertising.