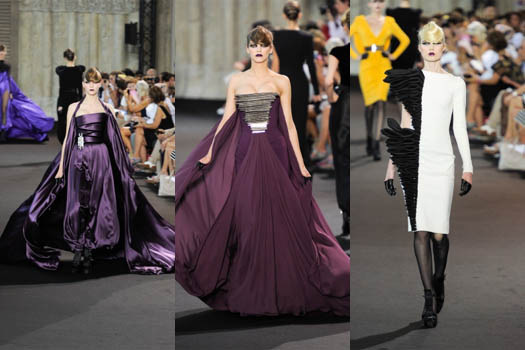 PARIS, July 5, 2011/ FW/—  Stephane Rolland Haute Couture this season was beyond beautiful, full of artistic elements and perfectly tailored evening gowns.  From the dramatic makeup, charcoal eyes and deep magenta lips, to the hair, the shoes, and of course the gowns, this collection was impressive.
The dominating silhouette was the slim line gown with a dramatic fish tail train, often with long sleeves, and usually adorned with an artful gradient design, like lacquered chopsticks.  The designer drew his inspiration this season from the subtly of a sketch stroke, particularly, "Caoshu," the style of Chinese ancestral calligraphy said to be "en herbes," flowing like wild grass.  He morphed this into satin braidings, new origami folds in gazar and black organza, laid on bodies cheathed with jersey like a second skin.
The figure was long and slender, juxtaposed by  generous looping trousers and sleeves with floating, open seams.  Draped, flowing fabrics referenced Hanfu, the forerunner to the Kimono.  Beautiful ink stain patterns, as if ink was dripping along the back gave an artful and modern quality to the designs.
Black, white, plum, and imperial green created harmonies punctuated by acid bursts in magenta and solar yellow.  The ornaments, whether plastrons or belts, are all authentic sculptures, which was complimented well by the setting in the beautiful sculpture room of the Palais Chaillot.
The final inspiration of the collection, Rolland's muse, was the woman, the attitude, the presence of the great Carmen Dell'Orefice.  Her statuesque appearance is long and mysterious, just like a stroke of black ink topped with a white cloud.
[LINDSAY McCALLUM]