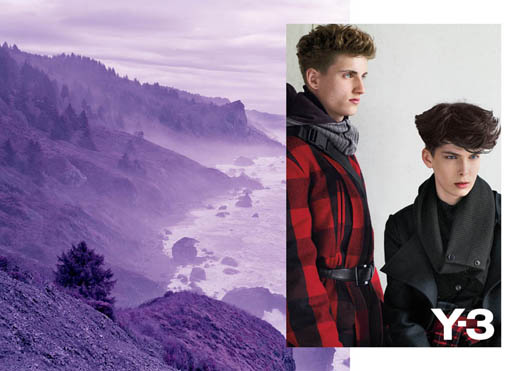 PARIS, Jul 22, 2011/ FW/ — Entitled "Beneath, Between, Beyond," the Y-3 Fall 2011/Winter 2012 advertising campaign goes back to nature with its references to horseback riding and hiking in the hills.
Y-3 asked artist Collier Schorr and photographer David Benjamin Sherry to interpret the Y-3 Fall 2011/Winter 2012 "Travelling Man" wherein the duo promptly construes as journey and not a destination.
Collier Schorr created video images and mood of the campaign "Beneath, Between, Beyond" which opens with a definition of the trip. A young man and a woman, dressed in clothes that seem to almost mimic the colors of nature, pass through the thin air of the mountains and look invisible; they try to connect to that beautiful moment passersby cannot contain or be captured.
Together with photographer David Benjamin Sherry, Schorr contrasted hyper-colorful landscapes with two people who also seem to be from another world. A feeling of being lost, both due to traveling and love; the song starts with a girl who disappears in a blue sunset and ends with the boy waking up as if he imagined the show.
The protagonists share a dream inside, but ultimately it is a projection of their imagination. They are alone; their private lives spread before them, the sun shining through to the nomads going to their respective destinations.