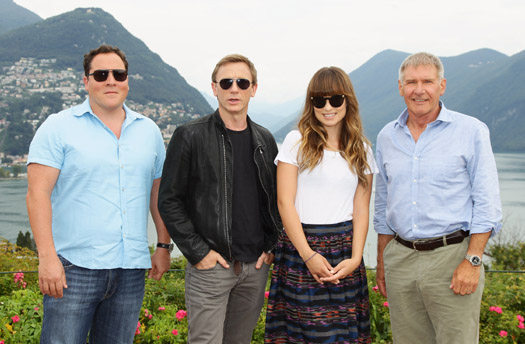 DALLAS, Aug 11, 2011/ — Cowboys & Aliens stars Daniel Craig, Olivia Wilde and Harrison Ford together with Director Jon Favreau are not just breaking box office records; they are also ahead of the curve on the eyewear trend.
As seen in this sightseeing photo in Lugano, Switzerland where they attended the screening of "Cowboys & Aliens" during the Lucarno Film Festival, eyewear is part of their total look while off the red carpet.
Case in point, Olivia Wilde was wearing the black Versace January J sunglasses with gold Medusa detail in the front in Lugano and she was also spotted in Berlin wearing the same sunglasses.
With more celebrities like Jon Favreau, Daniel Craig, Olivia Wilde, Harrison Ford choosing glasses over contacts, industry insiders are predicting that fashion eyewear will be a major consumer trend this fall.
According to a new survey released by online fashion eyewear boutique Eyefly, 56% of consumers say they make a conscious effort to wear glasses that match their outfits while 48% said they'd match their frames to their ensembles if glasses were more affordable.
In fact, 79% expressed they would buy different pairs for different occasions if they could score glasses for $99. Meanwhile, 57% said it was a hassle to get prescriptions filled at an optometrist and 88% of respondents lamented prescription frames as way too expensive.
Online eyewear boutiques like Eyefly, which launched this summer, deliver the cost, convenience, and glam factor consumers are craving. Offering fashionable prescription eyeglasses for $99, Eyefly's virtual try-on feature enables consumers to buy perfectly-fitted frames quickly and easily.
The premise of the site is that eyewear is a fun fashion accessory that complements an outfit, much like shoes or a great handbag—good news for the respondents who admitted they don't need glasses, but would wear them "just 'cause they look cool".
By offering a more convenient and affordable way for consumers to purchase glasses, Eyefly celebrates consumers eager to put away their contacts, and wear their frames with pride.