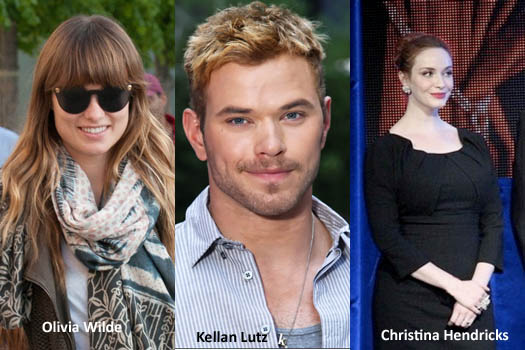 DALLAS, Aug 10, 2011/ FW/ — Triple digit weather here in Dallas and still no end in sight! The only good thing about it, our celebrity sightings is as hot as Dallas!
Olivia Wilde, star of "Cowboys & Aliens" was spotted in Berlin on August 7th wearing the black Versace January J sunglasses with gold Medusa detail in the front. Ms. Wilde, who is also called "Thirteen" in FOX hit TV series "House" was in Berlin to promote "Cowboys & Aliens".
In Beverly Hills, Emmy Award nominated 'Mad Men' actress Christina Hendricks wore Margaret Rowe Couture Jewelry for the Television Critics Association's TCA Awards held on August 6, 2011 at the Beverly Hilton Hotel in Beverly Hills, California.
Christina wore a hand-crafted, vintage couture ring and vintage cluster earrings by Margaret Rowe to complement her black Carolina Herrera dress.
Silver screen hottie Kellan Lutz is not afraid to accessorize! The "Twilight" star and Calvin Klein model is also a big fan of Alex Woo's Little Letters Collection. Kellan Lutz is seen here wearing an Alex Woo 14kt Yellow Gold Initial "K" pendant.
[MARI DAVIS]