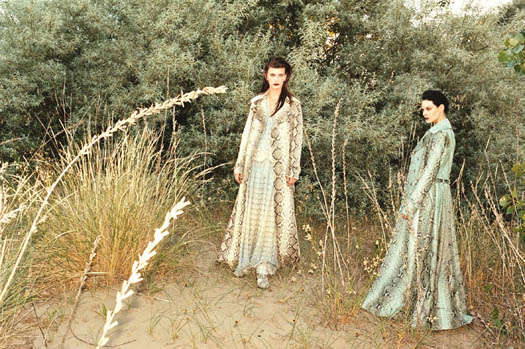 MILAN, Aug 5, 2011/ — As was the case with the previous "Family Portrait" and "Family and Friends" campaigns, stylistic harmony and family unity have inspired the Missoni Fall-Winter 2011 campaign.
Entitled "A Wonderful Life", the campaign was again created by artist and photographer Juergen Teller and is intended as a tribute to Ottavio, the head of the Missoni family, who celebrated his 90th birthday this year.
Shot against the natural and almost metaphysical background of the Alberoni Reserve at the Venice Lido, the campaign features the legendary "Tai," an Olympic athlete but also the founder and icon of one of Italy's most beloved and oldest brands, and models Kaitlin Aas, Valeria Kelava, Kinga and Kristina Salinovic.
Tai continues to bring inspiration through his unmistakably sophisticated and informal elegance and adds a unique quality and intensity to this campaign. He has helped transform the images into a blend of myth and reality, of authenticity and artifice, and of form and content.
The photographic sequence thrills, entices and destabilizes the viewer, taking a contemporary look at subjects and atmospheres with the air of seventeenth-century art. At the same time, it is a fashion campaign that goes beyond, that can speak of other things and short circuit information, clothes and habits, showing us contemporaneity and beauty, identity and the intensity of different ages and generations.
Hair by Franco Gobbi/make-up by Dick Page.