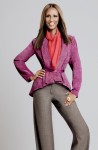 NEW YORK, August 29, 2011 / FW – Move over Midas, Iman's touch trumps the gold with platinum.  Quality, luxury, and elegance all convey the super's exquisite eye conveyed in her new collection.  It's the second trip around the world without your passport – that's what you get with Iman's Global Chic Platinum collection.
Focusing on travel, lifestyle, and an exotic feel – this time around, Iman offers colors from accessories to RTW.  From ladies leather suit jacket and matching skirt, python draped jacket, to croc embossed coat – these are offered in basic black, chocolate, taupe to other hue options.  Key items include faux shearling short sleeve reversible vest and python trimmed dress with matching sashes in suede for the perforated 'fly away' suede jacket.
Accessories range from perforated hobo and wallets, lizard signature totes, croc embossed totes to crossbody pony hair bags with leather trimm.  Available in black, chocolate, taupe, olive, raspberry, and dark brown – Iman's favorite item is the luggage with faux fur front detailing.  These can go with the RTW pieces or as separate options that speak for themselves.
The true platinum touch will not be available till October.  Reversible hood faux shearling jacket, faux shearling long peacoat, and khaki polyblend trench coat brings the full jet setting experience of the designer.  Sold exclusively at Home Shopping Network, HSN.com – the collection is all under $300 with a wide range of sizes and colors.  With fashion week nearing and the fall/winter seasons coming, owning clothes of the super or as gift options can't be wrong.  As always, the 'I' in Iman truly stands for 'Icon' with a platinum touch.
[ELGENE CASTUERAS]
Photos provided by Paul Wilmot Communications