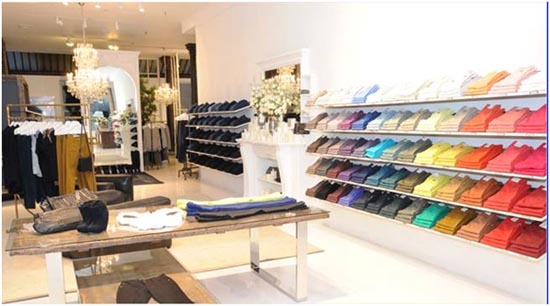 NEW YORK, Sep 15, 2011 – Iconic denim label, Joe's, launched its New York City pop-up store last Thursday on Fashion's Night Out. Located in SoHo, the shop showcases the latest fashion and denim trends from one of the industry's hottest LA-based companies.
"We are excited to have our very first New York presence in the heart of Soho, this location will allow New Yorkers to experience the depth of Joe's as a complete lifestyle brand," says Marc Crossman, CEO.
Containing an array of popular pieces from Joe's fall 2011 collection including The 55 Colors and Joe's leopard print inspired collection, Joe's Wild, the pop-up store is a downtown fixture for denim lovers seeking the latest trends.
Stylish sister duo Arielle and Danielle Nachmani are just two of New York's fashionistas who have shopped the store and were on-hand to help open the doors last Thursday. Known for her chic fashion sensibility, Something Navy's Arielle is a fashion industry darling and one of the digital world's top bloggers.
Danielle, one of Hollywood's most sought after stylists, works with Rosie Huntington Whiteley and Maggie Gyllenhaal among other stylish celebrities. "We were thrilled to have the Nachmani sisters with us on our opening night," shares Joe Dahan, Founder and Creative Director. "Their casual cool meets street style falls very much in line with our brand's DNA."
The Joe's store is located at 77 Mercer Street in the heart of SoHo and is open Monday – Saturday from 11 a.m. to 7 p.m. and Sunday from 12 pm to 6 pm. Phone: 917-243-5043.