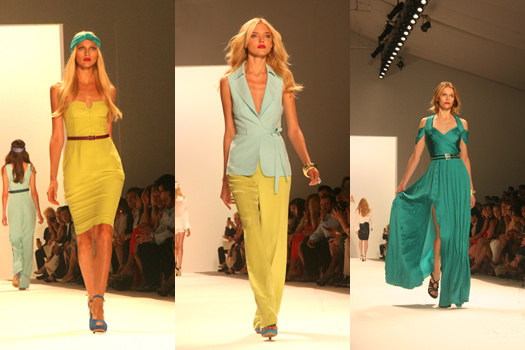 NEW YORK, Sep 10, 2011/ FW/ — Its hippie chic meets Lauren Hutton as the iconic looks of the 1970s is made glamorous with today's advance technology in fabric.
With Raul Melgoza getting a surer hand each season with Luca Luca's DNA, the brand's Creative Director brings the Luca Luca sexiness into a forefront with his own vision. And in this instance, it's about the virginal sexiness of the '70s mixed with the rampant experimentation of the decade as a result of the revolutionary 1960s.
The 1970s experimentation also brought the excess and hedonism of the 1980s. Keeping that in mind, Raul Melgoza was able to put on the runway the 1970s flux and thus creating an excitement as we view it from hindsight.
As the saying goes, "hindsight always has a 20/20 vision." Raul Melgoza used that to correct some of the kitsch-iness of the era and thus resulting to an updated version of the silhouettes that are not just pleasing to the eye but also wearable and covetable.
[MARI DAVIS]