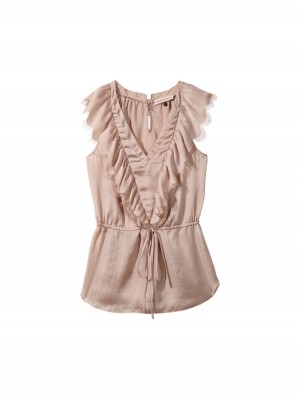 NEW YORK, Sep 26, 2011/ FW/ — With October designated as breast cancer awareness month, New York-based designer Rebecca Taylor has designed a special nude eyelash trim ruffle blouse to raise awareness and funds for the Triple Negative Breast Cancer Foundation (TNBC)
A foundation dedicated to raising awareness and funding research specifically aimed at this aggressive subtype of breast cancer, TNBC was established in honor of Nancy Block-Zenna, a young woman who was diagnosed at age of 35 with triple negative breast cancer and died 2 ½ years later.
50% of the proceeds from this pink silk blouse will go directly to TNBC.
Triple negative breast cancer is an aggressive, yet little-known subtype of breast cancer. Approximately 15% of breast cancer cases are classified as triple negative, most often occurring in younger women and African-Americans. A diagnosis of triple negative means that the cancer is negative for estrogen, progesterone, and HER-2 hormone receptors, and therefore, common breast cancer targeted treatments are generally ineffective.
It is TNBCF's mission to "raise awareness of triple negative breast cancer and to support scientists and researchers in their effort to determine the definitive causes of triple negative breast cancer, so that effective detection, diagnosis, prevention and treatment can be pursued and achieved."
Rebecca Taylor feels strongly about finding a cure for this unique subtype of breast cancer and was happy to design a special blouse to benefit the foundation.
The blouse will retail for $235 and is available exclusively on our ecommerce site, www.RebeccaTaylor.com as well as in Rebecca Taylor boutiques.