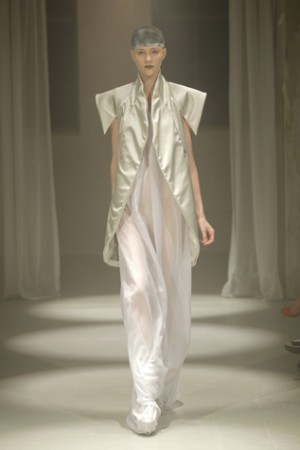 NEW YORK Sept 22, 2011 /FW/-People are talking about Sally LaPointe and there is no mystery why. This custom designer to Lady Gaga unveiled her third season at this Spring 2012 Mercedes Benz New York Fashion Week. Elongated silhouettes and structured shoulders; the designer has proven to have a very distinguished style. Smokey arches and chandeliers set the scene for spring's haunted romanticism. Modern and refreshingly outside the box Sally is proving to be quite a showman on the rise. Believe it or not,  Sally found her inspiration when coming across an old hospital on Roosevelt's Island that ended up being abandoned due to small pox.
Spring's palate featured mostly black and silver with the occasional appreance of powder pink and yellow. Each garment was a true showcase of tailored art. Structured signature jackets were paired with floor sweeping sheer skirts. Full bodied legs and jumpsuits were dramatic and a strong look for this season. There were varieties of shorts skirts paired with loose tops and layered with cropped jackets or elongated vest. Prints were inspired from the decomposing hospital walls in shades of grays and mauves. Major crowd pleaser was a short sleeve halter full-bodied silhouette that gave the "jump suit" a new look for spring.
There is a lot to be admired about Sally LaPointe and her design vision. We definitely feel that she is a very important one to keep an eye on. This new designer is comfortable with taking risks and that only means exciting this are in store.
photos courtesy of Sally LaPointe