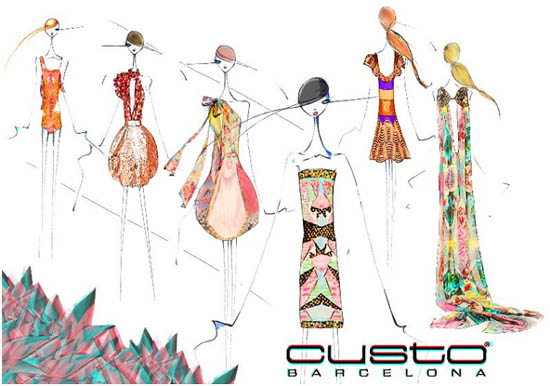 NEW YORK, Sep 2, 2011/ FW/ — "We try to create a universe based on sensations, mixing colors, graphics and materials, exploring the smallest details to the maximum," says Custo Dalmau about the Custo Barcelona Spring 2012 collection that will be unveil during Mercedes-Benz Fashion Week.
Entitled "GABONGA", the collection features graphic fabrics and flowing garments with more body-conscious pieces that enhance the figure; superimposed and contrasting lengths to highlight femininity.
Most of the loose-fitting looks include dresses and tunics, with free-flowing silk chiffon, nylon and silk organza. There are also skirts and shorts matched with voluminous blouses. The sleeves on the blouses include metal stud embellishments that match the graphics. They also include small zigzag elements that have been cut out individually, creating fantastic, delicate volumes.
The body-con garments primarily include very tight graphic patchwork dresses – one of Custo Barcelona's most distinctive designs. This part of the collection also includes shorts and trousers with chain-mail embellishments, matched with cropped bomber jackets and masculine waistcoats, over semi-transparent chain-mail openwork shirts.
Lastly, the collection will feature new items such as trench coats and swimwear – all of them in typical Custo graphics. The former are made of printed nylon, while the latter are designed with small kaleidoscopic elements and patches.