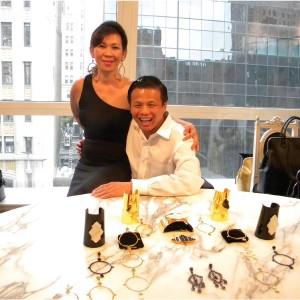 NEW YORK, Sep 12, 2011/ FW/ — Zang Toi, fashion darling of the elite crowd revealed that on Tuesday, 1:00 PM at the Studio at the Lincoln Center, he will be unveiling not only his Spring 2012 collection but also his latest new line, Zang Toi Fine Jewelry.
Created in collaboration with Kuala Lumpur's Amee Philips Exclusive Jewelry, the Zang Toi fine jewelry collection that will be shown to the public for the first time ever had been designed for the contemporary woman with a very discerning tastes.
"Everything is exquisite," explains Zang as he showed FashionWindows the pieces that will be shown on the runway on Tuesday. "With price points beginning at $2500 up to $250,000, the jewelry are meant to be worn during special occasions. But, it will be hard not to use them every day. Cases in point are the gold bracelets and the gold earrings which will definitely look good worn with a gown during a red carpet affair. Or you pair them with your favorite jeans when you are just going around town."
Zang Toi burst into the New York fashion scene in 1989 and since then has been a favorite among the fashion set long before they were called fashionistas. Known for his superb tailoring and great attention to details, Zang Toi's creations are nearer haute couture than prêt-a-porter.
On Tuesday, he will unveil the Spring 2012 collection for his eponymous label "Zang Toi" and for his youthful line "Toi House". The shoes will also be his line of shoes and the make-up will also be from the upcoming Zang Toi line of cosmetics.
[MARI DAVIS]