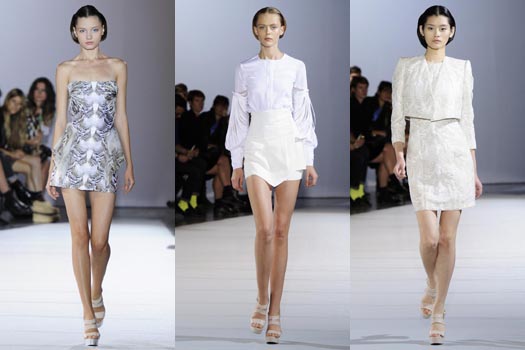 PARIS, Oct 5, 2011/ FW/ — Now on her sophomore season in Paris, MSU-Istanbul Fashion-trained Arzu Kaprol proposed a white collection that was interspersed only by several shades of gray.
A strong and bold statement for a young designer who is practically new in the Paris fashion scene, Arzu Kaprol held her own. A 1994 graduate of the Paris American Academy, she launched in label in 1995 which won several awards especially the prestigious Beymen Prize during its first year of operation.
In Turkey after signing a License agreement with Luxury Group Beymen, she has been able to expand a strong retail presence. The Arzu Kaprol PAP collection continues to expand internationally and in July she started to work with the international department store Harrods in London.
With the Arzu Kaprol couture collection she has already dressed celebrities such as Meg Ryan, Kelly Rowland and Gisele Bundchen, and more recently Angela Lindwall at the 2011 Amfar Gala and the closing ceremony of the Cannes Film Festival.
June 2011 Amfar 25th Anniversary she produced 7 RED couture outfits to represent the official RED RIBBON at MOMA/ NYC.